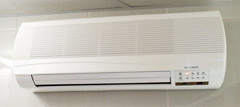 It is often necessary to look at additional heating for bathrooms and kitchens.
We fit many air conditioning units in to all areas of the house, but there is not always space for one in a bathroom or a kitchen. For this reason we fit independent heaters to make specific area of the home warm.
The EnviroCare SL heaters are very slim line, and have one slim line remote controlled unit. The heaters are installed on a wall space and linked to the electrical supply. Many fitted kitchens and bathrooms have very little available wall space which makes the compact size of our heaters very popular.
Our heaters simply require a connection to the electrical circuit so they can be installed very quickly, and as they are operated with a remote control handset which has a variety of settings, these heaters really do heat up the area very quickly and cost effectively. When you leave the room you just switch it off saving you money on electrical consumption.
An alternative option is a heated towel rail which is ideal for heating the area of a bathroom and giving you the luxury of having dry warm towels!