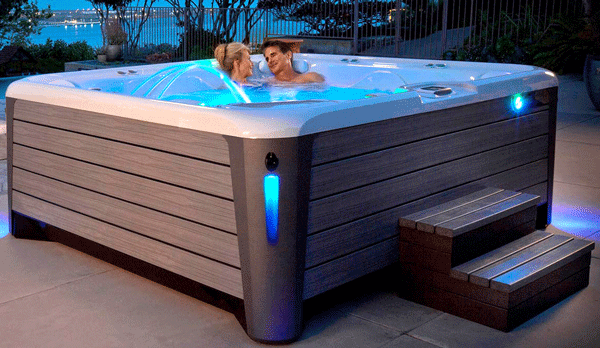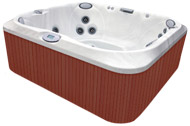 With many property owners now spending long weekends in their Spanish homes 6 or 7 times a year instead of only the traditional 2 week holiday in the summer, they are looking for all the comforts of home that will make their stay enjoyable and relaxing. There is so much to love about having your own Jacuzzi or Hot Tub on the terrace or balcony.
What a great way to feel healthier and relaxed every time you visit your property in Spain!
We have many models and sizes of Jacuzzis and hot tubs to chose from depending on your personal requirements.
It may be that you want to:
soothe sore muscles and joints after a long day
to relax and enjoy a private hydrotherapy session
spend time with your family together
invite friends over for a therapeutic warm water soak
or even just to chill in a hot tub or Jacuzzi when the outside temperature is a bit chilly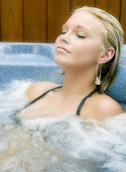 Whatever your requirements, we can help you.
We can supply many models and sizes to fit any situation and budget:
Hot Spring Highlife® NXT Spas
The next generation in design and innovation
Design Innovation
The expertise of BMW Group DesignworksUSA has helped to introduce the future of Hot Tub design.
Sleek
The extraordinary floating effect along other design details make the NXT spas hugely different from traditional hot tub designs.
Unrivalled Experience
Advanced features and unmatched quality make owning and enjoying these Hot Tubs easy.
Hot Spring Highlife® Spas
Advanced engineering for ultimate enjoyment.
Design Innovation
The expertise of BMW Group DesignworksUSA has helped to introduce the future of Hot Tub design.
The Highlife Difference
Each Hot Tub in this range offers exclusive features to provide you with the ultimate Hot Tub experience every time for years to come. These hot tubs offer innovative jets, the very best in filtration and water care, and cost-saving efficiency you won't find anywhere else.
Our jet philosophy
Hot Tubs designed around how you actually use them. The ComfortControl® system allows you to control the strength of massage. The SmartJet® system allows you to direct power to the jets you are using, instead of powering all the jets at once.
The Perfect Massage
Up to 7 different jets, offering different types of massage for all parts of your body.
Hot Spring Limelight® Spas
Exceptional performance with contemporary style.
The Limelight Difference
Elegant styling, exceptional performance; this Hot Tub will quickly become the centre of your home leisure experience. Each model offers soothing massage, vibrant lighting, and exclusive features making ownership easy. Just sit back, relax and enjoy.
Powerful Jets
Designed to feel as good as they look. Comfortable seats with powerful jets to massage from your shoulders to your toes.
The Perfect Massage
Feature a variety of jets from targeted Precision jets to XL combination jets soothing larger muscles.
Features and quality add up to real value.
The Hot Spot Difference
Great value and designed to provide you with a relaxing treat you can afford.
Powerful Jets
Designed to become a part of your everyday life, these Hot Tubs have jets that will help you feel your best.
The Perfect Massage
Jets that relieve tension in your neck, shoulders, back, calves and feet.
Just plug them in! These Hot Tubs are 230v plug-in ready, requiring no additional electrical connections. All you need is a nearby hose and 230v electrical socket and you'll be relaxing in no time!
As well as easy setup, Fantasy Spas are easy to maintain, and you'll soon appreciate the low operating costs resulting from their intelligent engineering.
Also offering a two-speed therapy system so you can soak while being gently massaged, or simply increase the power for a more vigorous deep-tissue massage.
All Fantasy spas are pre-plumbed to accept an after-market ozonation system that can eliminate up to 80% of chemical use.
Topside Controls
Topside electronic controls provide a convenient way to control temperature, lighting and water flow.
Interchangeable Jets
Each Hot Tub has jets that are designed for hydrotherapy, including the all important neck and shoulders area.
Top-loading Filters
Top-loading filters that are accessible for easy maintenance.