Standard Concrete and Tiled Steps
With a concrete swimming pool, a set of steps is usually built into the pool. The standard model consists of a straight set of steps in one of the corners. There is a fantastic range of tiles that we can recommend.  The steps are kept to a minimum so as to lose as little swimming space as possible.  We can also install a stainless steel hand rail for safety.
Round Corner Steps
Round corner steps are swimming pool steps that are also built into one of the corners of the pool.  And tiled. We have classic stainless steel rails that can be installed for safety.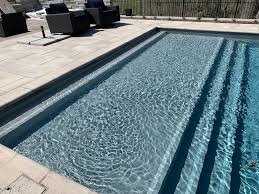 Roman Steps
Roman swimming pool steps are very popular in older built pools though in modern builds, the pools tend not to have the Roman Arch,  Roman steps are built outside the rectangle so as to maximise the swimming space and are usually a meter in depth.  Generally this style of steps doesn't not need a rail.
Customised Swimming Pool Steps
As well as the above models, you can also opt to have a customised set of steps built. This makes the swimming pool unique and steps like these are also a real eye-catcher. We can discuss a lot of possibilities with you.
Stainless Steel Steps