Underwater Swimming Pool Lighting
If your pool lights are the old Halogen bulbs, its a good time to look at the economy of the lights, and change to LED modern lighting to give more economy and a much more modern effect.
LED will run for a good amount of time without the need to replace the builds.   And of course the consumption costs will be much lower.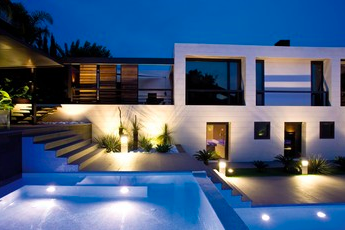 Light doesn't turn On?
Call us out, and our engineer will check all the trips and circuits.
Water behind the Lens?
On old lights the seal can become weak.  Our recommendation is to install a new light.  And while you are doing this, take the opportunity to replace with a modern energy saving LED light.
Pool bulb burned Out?
Send over a photograph of the lights you have, and we will sent you a quotation for our engineer to replace the bulbs.
Changed the Pool Bulb but it still doesn't Work?
If you change the pool light bulb but the light still doesn't work: our engineer will check all your trips and make recommendations on a solution for you.
Buying a new Pool Light?
Our engineer will supply and install a bulb for you.  Whilst at your property he will also make recommendations of any further work required.