Swimming Pool Steps and Ladders
We are fully experienced at installing stainless steel ladders and hand rails for the safe entry and exit from your swimming pool.  Giving you full peace of mind.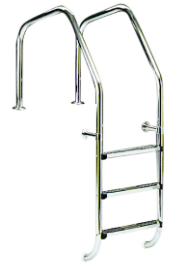 Swimming Pool Stainless steel steps and handrails make it easy for you to get in and out of the pool, attached to the side of the pool.  Made of out stainless steel ensures that the steps will never rust.  
There are a lot of options to chose from when it come to stainless steel steps.